How to Choose the Right Pool Cover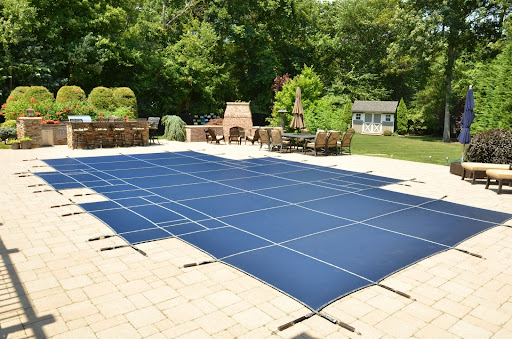 LOOP-LOC Aqua-Xtreme Cover Shown in Sapphire Navy
Buying the right pool cover can be daunting because there are many options to consider.
How do you know it's a trusted safety cover? Will your pool cover fit, even if you have a unique pool shape?
A pool is a significant investment, which makes finding the right pool cover even more important. Researching covers now will pay off in the long run because a high-quality cover will last for many seasons to come.
The first place to look is at LOOP-LOC for its varied collection of pool safety covers. We know that there's a LOOP-LOC cover for your pool, and we can help you select the right one with confidence for the upcoming off-season.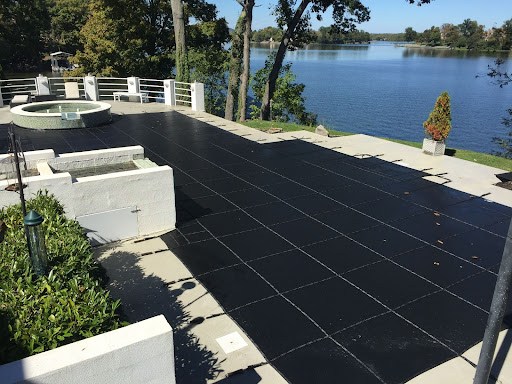 LOOP-LOC Super Dense Mesh Black Cover
Safety First
Even if you primarily use your pool cover in the offseason, the main reason for a pool cover is typically safety.
When shopping for a cover, first check to see if Underwriters Laboratories have independently tested it.
Regulations for water products require specific knowledge and expertise to clear critical certification and testing challenges. That's what makes UL testing extremely important.
Many pool cover companies will claim that they meet the ASTM standard for manual safety covers, but they are not legally required to follow through with UL testing.
LOOP-LOC takes that extra safety step with its mesh safety covers to exceed the guidelines set forth for safety swimming pool covers by ASTM standard F 1346-91 and pass UL testing.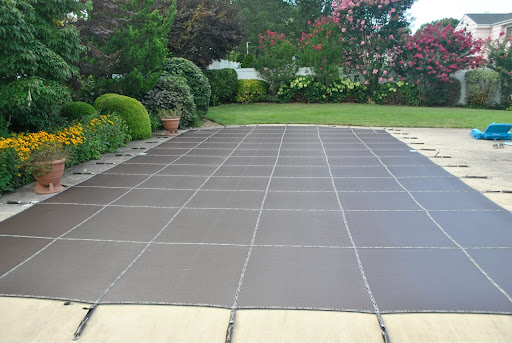 LOOP-LOC Aqua-Xtreme Cover Shown in Mojave Brown
What's a Hybrid Cover?
LOOP-LOC's Aqua-Xtreme is a hybrid mesh safety pool cover that's ideal for every season, including the harshest of winters.
This cover is ideal for any inground pool in any climate because it has the best features of both solid and mesh covers.
Solid pool covers offer exceptional light-blocking, and Aqua-Xtreme does the same through a unique weave mesh.
Superior light blocking technology keeps the sun off your pool water and algae growth at bay. Mesh covers drain snow and rain off the top into the pool, preventing standing water and cover damage. Aqua-Xtreme also claims all of these benefits, with lightning-fast draining and super-strong materials.
On top of these pros, Aqua-Xtreme is 50 percent lighter than a regular solid cover, guaranteeing easy application and removal. This cover solves all the problems you've had with previous covers and goes beyond what's needed to give you a smooth, efficient safety cover experience all winter long.
On-Ground Pool Covers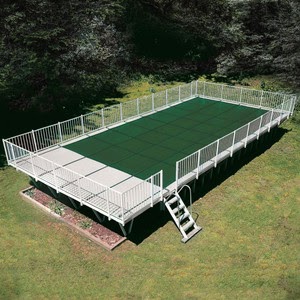 Do you have an on-ground pool surrounded by more than 2 feet of deck? There's a LOOP-LOC option for you, too, with LOOP-LOC's On-ground Safety Pool Cover , a mesh cover attached to your deck with our own patented brackets.
The mesh version lets water drain through but is still thick enough for effective UV protection, making this cover great for various climates. The solid version blocks 100 percent of sunlight from your pool's surface and allows water to drain through mesh drainage panels or a pump, depending on your preference.
Even if your pool is on-ground, you can get the benefits of a strong and secure LOOP-LOC cover that is sure to provide an effective barrier for kids and pets from getting to the water, not to mention all of those leaves and branches that fall brings.
Commercial Pool Covers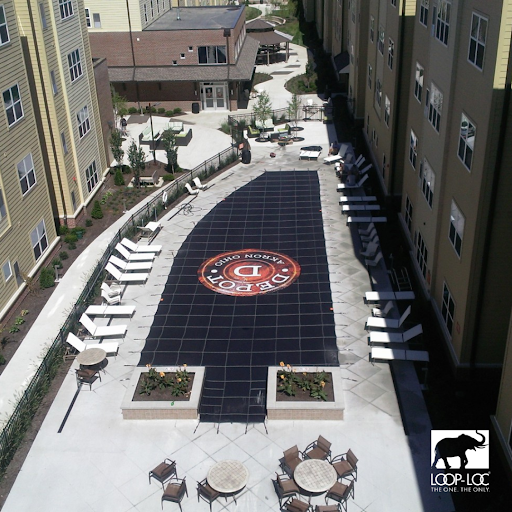 LOOP-LOC Commercial Cover with Company Logo
Many commercial properties drain their pools instead of covering them, thinking that will make them safer for guests. Draining a pool, however, disrupts the balance of a pool and can cause more damage than you may imagine. Damage brings headaches and can be quite costly.
Instead of leaving an unsupervised pool open, prompting potentially dangerous situations, covering it with LOOP-LOC's ULTRA-LOC safety pool cover during the off-season will ensure your pool stays in great shape and has fewer liabilities.
Even better, you can get your cover personalized with a business logo to showcase your brand or slogan, even when the pool is closed. Nothing will help your branding better than a logo the size of your pool!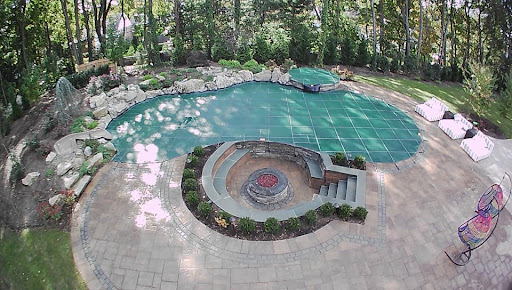 LOOP-LOC Super Dense Mesh Green Cover
Solid or Mesh Covers?
What would make you decide between a mesh or solid LOOP-LOC cover? Solid covers are much heavier than mesh covers but can provide better UV protection. They also have the added benefit of keeping rain and snow out of your water, which can affect your chemical balance. However, in order to maintain safety features solid covers must use an automatic cover pump which will stop water from collecting and pooling.
Mesh covers allow rainwater to pass through, so your pool water may become a little cloudy if you have a heavy rain season. Mesh covers may also require more cleaning for the pool come spring, however, this can easily be prevented if you follow the care & maintenance instructions that are supplied with your cover.
Hybrid covers such as LOOP-LOC's Ultra-Loc and Aqua-Xtreme maintain the best features of solid and mesh covers while minimizing their faults.
LOOP-LOC Super Dense Mesh Gray Cover
Will it Fit?
LOOP-LOC has exclusive computer-aided design technology to ensure a perfect, custom fit for any pool shape or size. Whether you have a rectangular or kidney-shaped pool or a custom shape, LOOP-LOC can manufacture a cover with a perfect, snug fit for any pool or spa.
A tight cover is necessary to avoid the accumulation of water that happens with a cover that doesn't fit well and sags. A sagging pool cover becomes a dangerous, slippery swamp after just a few rain or snow showers.
Overall, the decision to invest in a new pool cover is a big one, but there's no way to go wrong with a LOOP-LOC pool cover. Each cover is custom designed to your pool's shape and size, so it's guaranteed to fit perfectly over any obstructions or curves your pool may have. The right cover is what's best for you and your pool, and any LOOP-LOC professional pool dealer will help you find the cover that will work best in your situation.